⛱ Five Reasons Why Towels are Effective an Promotional Product
Towels are one of the most enduring promotional products. Here's good five reasons why:
Towels last a lifetime - people never throw towels away.
They are a perfect unisex gift.
One size fits all.
Towels have one of the largest print areas of nearly all promotional products.
An ideal choice for Christmas/end of year gifts, product launches, sporting events, sponsorship programs, corporate and conference gifts, incentives and more.
Make Your Life Easier
Buy in Bulk and Warehouse with Us 📦
The most economical way to purchase promotional items is in larger quantities. If your order is being produced off-shore this is especially true and consolidates the longer delivery times. Ordering off-shore also allows you to add more features to your design and will ensure that your logo, design and colours are consistent across the product.
Did you know that our customer service extends to warehousing your stock for a very economical fee? This not only optimises your storage space, it saves you precious time!
ADZ Impact can create your own promotional products warehouse within our site. Simply order your supplies via your unique Member Login and we will pick, pack and distribute your products nationally. Real-time inventories and transition histories at your fingertips and we will notify you when you're running low on stock.
💨 Why Layer Your Winter Wardrobe? It's all about insulation, breathability and movement
Insulation

Insulation works in the same basic way - it traps air that has been warmed by your body close to your skin and minimises heat loss. If there's no wind, the warmed air will remain. If there's any sort of breeze, the wind will strip the warm air away, and your body will have to warm a new layer of air and you'll lose heat. The more air you can trap, the warmer the garment will be relative to its weight - but wind-proofing matters too.
As far as lightweight insulation goes, it's all about how much air you can trap with as little weight as possible. But of course there's more to it than that - wind resistance will make the garment warmer in real world use, while more or less breathability will affect its suitability for active use.
Breathability
Materials have improved immensely over the years, allowing design of more comfortable high performance layers. Through advancements in fleece and pullover fabrics we have also been able to enhance breathability offering better moisture wicking properties than historical layering styles.
The primary method of adding breathability to a fleece and pullover garment is to utilise variation in the thickness or loft of the fabric to create certain key areas of high breathability while retaining a high degree of high warmth in others. This advantage makes them more versatile and suitable for all sorts of outdoor pursuits in both wet and dry conditions.
Movement
Lighter weight polyester fleece and pullover fabrics blended with Spandex allow for increased mobility…creating a new trend in layering garments. These technical blends allow garments to enter into a range of environments and elements ready for every adventure. Modern designs and sleek silhouette styling have allowed layering garments to re-invent themselves into a technically new era offering increased comfort and incredible freedom of movement.
Get Your Message Heard
When choosing promotional products it's important to consider how often a product will be used; will it be visible to more than the user?
Ear buds are the perfect choice for showcasing your brand. Their consistent popularity and portability means they're widely in demand and always ready to use in clients' pockets, handbags, gloveboxes, gym bags and desk drawers.
Many people prefer ear buds to headphones as their direct contact restricts external noise interference. ADZ Impact offers branded ear buds in a seemingly endless range of colours and fashionable styles including retractable cords, with/without microphone and stylish cases. We will ensure that no matter what your budget, whether high-end premium corporate gifts or event giveaways, your ear buds will be noticed!
Benefits of Bamboo Fibre 🐼
Why choose bamboo towels over 100% cotton? Bamboo's an easily renewable resource; it uses one-third of the amount of water required to grow cotton as well as having no natural pests. More reasons include:
Bamboo's naturally antibacterial, antifungal and odour-resistant.

It is a light, strong fabric that requires less dye than cotton. The colour of bamboo fabric is also described as more vivid than cotton.

The bamboo plant is highly water absorbent and is able to absorb three times its weight in water.

The fibres are round and smooth, causing no pilling and is gentle against skin.

Bamboo is highly durable and can be spun with cotton, hemp, silk, Tencel, Modal, polyester and Spandex
Introducing Supacolour!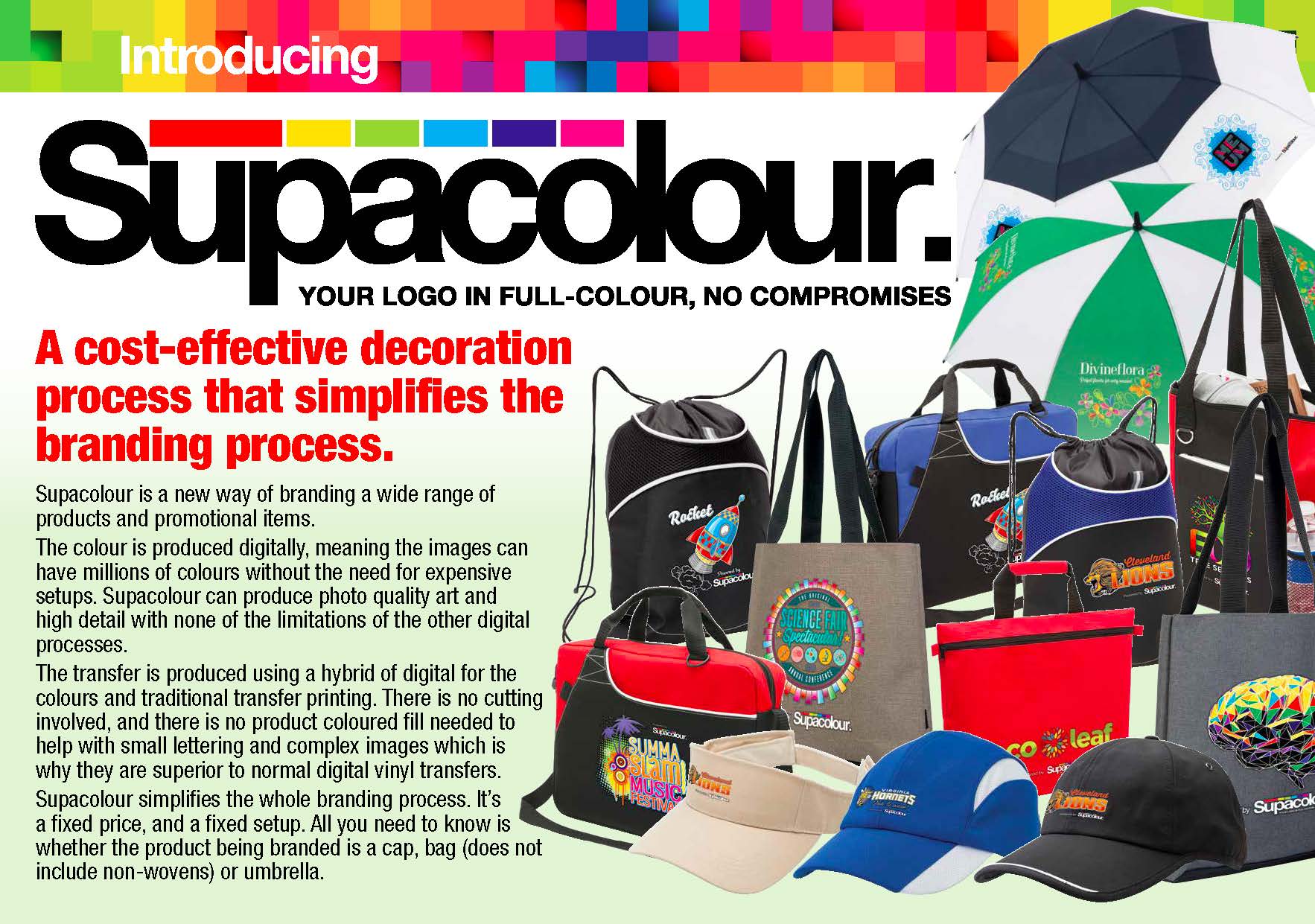 What is Dye Sublimation?
Dye sublimation involves the use of a special heat-sensitive dye to print your design onto paper. The printed paper is then placed with the synthetic fabric and heat-pressed for a pre-determined period.
The sublimation cycle transfers the design from the paper to the fabric. Sublimation is always done on white synthetic materials and at high temperatures.
The sublimation process impregnates the colour into fabric, not on top, as is the case with traditional screen-printing methods. This offers colour fastness, a better feel to the product as well as the ability to print unlimited colours.
As only white fabrics are suitable for sublimation printing, any white that you see in a sublimated design will actually be unprinted fabric.
Recent Posts
Welcome to the new Adzimpact Website